Acqua

Alias

Queen of the Sea

Position
Back
Awaken
All-round
Base Star
3-Star Base
Gender
Quote
Where is the ocean?'
Soulstone Sources
Mist Shop
Acqua is the Queen of the Sea. She protects and takes care of the oceans, and helps the lost Doo fishermen find their path back to land. With her faithful servant Exo, she tracks the insane Bloppy to make him stop his awful experiments… Back-row magic support. She has a high attack and strong healing abilities.

Appearance
Acqua has a vast amount of ocean blue hair. Acqua also features a white mermaid-like tail, a brown eye, slightly bluish sclera, a peach complexion, finlike ears with lighter blue membranes, darker blue gemstones on her forehead, a clam bra and a slim body.
Powers and Abilities
Acqua is a back-row Specialist. She acts as a cross between a support and an attacker and can be extremely dangerous to cross. Her C-Strike takes some time to prepare, but once unleashed it deals enormous damage to the entire enemy team. Her Spring Surge also deals damage, plus it disrupts the enemy. Her Torrent passive skill increases her magical damage even further, rounding up her offensive abilities. But what makes her a powerful support character is her second skill, Undine's Ode: she heals the weakest member of your team and renders them immune to control skills for a short time.

Awakening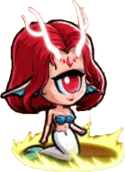 When Awakened, Acqua's hair changes from blue to red, her eye begins to glow red, her gemstones turn the same colour and she grows two mystical horns. Because Acqua is an All-round, during awakening, Acqua will have 50% increase in HP, Physical Attack and Magical Attack.

Skills
Acqua has three active skills and one passive skill that she uses in battle.
| Icon | Skill Name | Skill Type | Description | Effect |
| --- | --- | --- | --- | --- |
| | Tidal Wave | | Charge energy and then release a tidal wave that deals magic damage to multiple enemies. | Deals X magic damage. |
| | Undine's Ode | | Bless your weakest ally, which lets it recover HP over a period of time. During this recovery, your ally will be immune to all control skills. | Heals X HP. |
| | Spring Surge | | Water is at your beck and call. Let a spring erupt beneath the enemy knocking them back and dealing magic damage. | This attack deals X magic damage. Disruption chance depends on lvl. Guaranteed disruption for (SkillLvl) and below. |
| | Torrent | | The ocean can be a dangerous place! Blessed by the power of the ocean, your Magic Attack increases. | Increase Magical Attack by X. |
Talents
Icon
Talent
Description
Stats Increased
Spiraling Mana
You focus your mana to reinforce your attacks.
Increases your Magic Attack and Magic Penetration.


Mana Flow
Control the mana flow inside your body.
Greatly increases your HP and Magic Defence.


Attunement
Become more attuned with nature. Increases your Physical Defence and Magic Defence.


Death's Kiss
You have a Grim Reaper watching over you as an ally.
Increases your M.Critical Hit and Magic Penetration.


Elemental Guru
Controlling the elements is easy!
Increases your M.Critical Hit and HP.


Combos
Endless Mana

| Minion | Stat | Grey | Green | Blue | Purple | Orange |
| --- | --- | --- | --- | --- | --- | --- |
| | | 150 | 150 | 150 | 150 | 150 |
| Acqua | | 400 | 400 | 400 | 400 | 400 |
Striking Beauty

| Minion | Stat | Grey | Green | Blue | Purple | Orange |
| --- | --- | --- | --- | --- | --- | --- |
| | | 150 | 150 | 150 | 150 | 150 |
| Acqua | | 400 | 400 | 400 | 400 | 400 |
| | | 300 | 300 | 300 | 300 | 300 |
Gear
When Acqua's gear is activated, she will wear her impressive crown. This increases his base stats up to 5% - 10%.
Ruby Cost
1000
lv40 Bonus
+5%
lv1 Bonus
+5%
lv55 Bonus
+5%
lv10 Bonus
+5%
lv65 Bonus
+10%
lv25 Bonus
+5%
lv75 Bonus
+10%
Equipment
Strategy
Acqua works well in a lot of teams. As a cross between attacker and healer, she can be used in various ways. You can pair her up with another healer to have an even stronger rate of recovery for your team, or you can use her as the only healer and focus on the offensive while keeping a minimum of healing. Similarly, she can assist other attackers and increase your offensive power, or act as the main damage dealer in a defensive team.
Acqua is a very powerful character, especially in early/mid-game. Acting as a jack-of-all-trades, she can help in almost any mode, from a Boss fight to the Mist, from an Attack to a Defense Arena team. While her long preparation time for her C-Strike might leave her open for a disruption, especially in the Arena, she has the advantage of dealing a massive amount of damage when it is unleashed and might be able to kill several of the enemies at once.