Dolce
Position
Back
Awaken
Specialist
Base Star
1-Star Base
Gender
Quote
Aren't I a cutie?'
Soulstone Sources
2-1 Region of recovery - Elite
4-7 Swamp King - Elite
7-4 Relaxed - Elite
Void
7 Days Login Reward
Perhaps the sweetest minion in Miniworld, Dolce's ultimate dream is to travel all over the world and visit every nook and cranny. During her travels she stumbles upon Enkobo and his tribe and decides to join them after her old allies get taken down fairly easily. She gets upset when she's taken lightly, so treat her with care. Back-row magic support. Uses her C-strike to heal all allies and can restrict the enemy's movement.

Appearance
Dolce is a friendly looking, white bunny-like creature with blue and yellow accents, a curled tuft of yellow fur on her head, almost completely shaven arms, a large fluffy scut and a red eye. She specializes in healing and turning enemies into candy. During her Awakening, Dolce does not change much, apart from her eye glowing red, her accents turning the same colour and her ears pointing upwards.

Personality
Dolce is one of the friendliest minions in the world of Minimon. She is always eager to help ones in need and uses her skills and abilities to protect and heal her comrades. Despite her kind and caring personality, Dolce is very calculating and wants to be around strong minions that can protect her while she performs her duties.
Powers and Abilities
Dolce is one of the game's primary support minions. She boasts a strong instant healing ability with Sweet Aura, while Candy Spell allows her to control an enemy by turning it into candy. Her remaining skills give her some offensive abilities, making her a well-rounded support that is suitable for many Modes in the game.

Awakening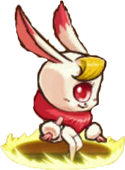 When Dolce Awakens, her eye glows red, her accents turn the same colour and her ears point upwards. Because Dolce is a Specialist, during awakening, Dolce will have an improved C-Strike.

Skills
Icon
Skill Name
Skill Type
Description
Effect

Sweet Aura
Sweets, love and energy!

Dolce creates an aura that heals all team members.

Heal X HP for all allies.

Lolly Missile
Dolce fires 3 lollypop missiles that deal a massive amount of damage to the enemy.
Each attack deals X Magic Damage.

Candy Spell
Turn an enemy into candy to restrict its movement.
Transformation chance depends on lvl.

Guaranteed transformation for (SkillLvl+20) and below

Sugar Binge
Sometimes too much sugar can be good for you!

Increases your Magic Attack.

Increases Magic Attack by X.
Talents
Icon
Talent
Description
Stats Increased
Mana Flow
Control the mana flow inside your body.
Greatly increases your HP and Magic Defence.


Mana Burst
You're overflowing with energy!
This burst of mana greatly improves your HP and Magic Attack.


Elemental Guru
Controlling the elements is easy!
Increases your M.Critical Hit and HP.


Psychic
Reading the future helps you in battle!
Increases your Magic Defence and Magic Penetration.


Durendal
Read the flow of energy in your surrounding.
Increases your Magic Attack and Magic Defence.


Combos
Dolce is a childhood friend of Vulpa and they have a strong friendly bond together. Because of this, pairing the two will boost the former's Magic Attack and the latter's Health, respectively.
Beauties

| Minion | Stat | Grey | Green | Blue | Purple | Orange |
| --- | --- | --- | --- | --- | --- | --- |
| Dolce | | 400 | 400 | 400 | 400 | 400 |
| | | 5000 | 5000 | 5000 | 5000 | 5000 |
Polymorph
Minion
Stat
Grey
Green
Blue
Purple
Orange
50px

[[]]

30px
50px

[[]]

30px
Gear
When Dolce's gear is activated, she will wear a maid's dress. This will increase her base stats up to 5% and 10% respectively.
Ruby Cost
750
lv40 Bonus
+5%
lv1 Bonus
+5%
lv55 Bonus
+5%
lv10 Bonus
+5%
lv65 Bonus
+10%
lv25 Bonus
+5%
lv75 Bonus
+10%
Equipment
Strategy
She's particularly useful for players that need some more sustaining when attacking Outland and Guild bosses, but she shines most in the Campaign and Arena, where her Candy Spell can nullify an opponent's tank.
Dolce works well with almost every minion in the game and does particularly well when paired up with a secondary healer, like Acqua, Majora or Florus. This allows her to stay alive a little longer, giving you that massive heal later in the fight so you can turn the tables on your opponent!