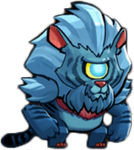 "Uses magic attacks and has a C-strike that silences enemies."
---
Boss Skills
Icon
Skill Name
Skill Type
Skill Description

Krava's Spell
Only for worshippers of the god Krava. Create a magnetic field that disables the use of magic skills.

Static Blast
Emit a beam of electrostatic energy that deals wise-range magic damage.

Static Blink
Control an electromagnetic field that teleports enemies back and stuns them.

Electricity
"Do you know what a electric shock feels like? No? You'll find out soon enough!" Attacks are infused with electricity. Basic attacks deal magic damage.
---