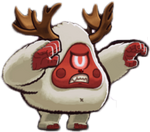 "Uses snow to freeze his enemies so watch out!"
---
Boss Skills
Icon
Skill Name
Skill Type
Skill Description

Absolute Zero
Absolute Zero can freeze enemies and deals magic damage to them.

Chilly Breath
Shoot a wise-range cloud of cold air at the enemy. Deals magic damage and slows the enemy.

Snowball
Throws a snowball and slow down the enemy. As the snowball gets smaller, it's power decreases.

Glacial Fear
Frozen enemies now receive magic damage over time.
---