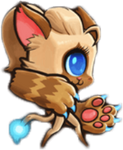 "Afterimages and high dodge make her nearly invincible."
---
Boss Skills
Icon
Skill Name
Skill Type
Skill Description

Fatal Dance
Calls two of Neko's cousins and leaps towards the enemies back row.

Cat Boxing
Neko attacks all nearby enemies with two swipes.

Cat Screech
Lets out a loud screech that startles the enemy and reduces its physical attack.

Neko's Dance
Neko's acrobatic and erratic movements can throw off enemies and make it hard for them to hit Neko. Her dodge is increased.
---