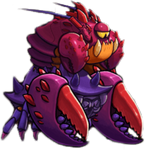 "Switches up his attacks. Immune to all debuffs."
---
Boss Skills
Icon
Skill Name
Skill Type
Skill Description

High Pressure Waterjet
Shoots a high-pressure water bullet that deals a lot of magic damage.

Pincer Swipe
Uses his pincer to attack an enemy and stun them.

Giant Pincer
Stomp the earth with a giant pincer, knocking back front-row enemies.

Geyser
Control underground water, dealing damage to a random enemy and knocking it back.
---