Back-row magic support. Can heal allies and remove their debuffs. Can protect an ally from an attacking skill.
Powers and Abilities
Awakening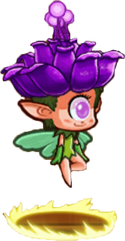 Because Rosina is a Specialist, during awakening, Rosina will have an improved C-Strike.

Skills
| Icon | Skill Name | Skill Type | Description | Effect |
| --- | --- | --- | --- | --- |
| | Flower Bed | | A bed of flowers feels really nice and soft. Removes all allies' debuffs and recovers their hp. | Heals X HP per ally. |
| | Aegis of Wind | | Call for nature's assistance! Gives a protective barrier to your ally with the lowest HP. This barrier blocks a certain amount of every attack. | Blocks X damage. |
| | Curing Petals | | "Flowers can do more than just look pretty!" Throw recovery petals that heal your ally with the lowest HP. | Heals X HP. |
| | Heaven's Call | | Absorb energy from flowers around you to increase your M. Defence. | Increase Magic Defence by X. |
Talents
Icon
Talent
Description
Stats Increased
Channel Energy
Focusing on your energy greatly improves your magical ability.
Increases your Magic Attack.
Mana Flow
Control the mana flow inside your body.
Greatly increases your HP and Magic Defence.


Mana Barrier
Channel your mana into a barrier that reinforces your spells.
Increases your Magic Attack and Physical Defence.


Mana Burst
You're overflowing with energy!
This burst of mana greatly improves your HP and Magic Attack.


Spirit Force
"Meditate. Float. Enlightenment. In that order." ---Monk Doo.
Greatly increases your Magic Defence.
Combos
Flower Power

| Minion | Stat | Grey | Green | Blue | Purple | Orange |
| --- | --- | --- | --- | --- | --- | --- |
| | | 5000 | 5000 | 5000 | 5000 | 5000 |
| Rosina | | 400 | 400 | 400 | 400 | 400 |
| | | 5000 | 5000 | 5000 | 5000 | 5000 |
Tall and Small

| Minion | Stat | Grey | Green | Blue | Purple | Orange |
| --- | --- | --- | --- | --- | --- | --- |
| | | 5000 | 5000 | 5000 | 5000 | 5000 |
| Rosina | | 5000 | 5000 | 5000 | 5000 | 5000 |
Gear
Ruby Cost
2200
lv40 Bonus
+5%
lv1 Bonus
+5%
lv55 Bonus
+5%
lv10 Bonus
+5%
lv65 Bonus
+10%
lv25 Bonus
+5%
lv75 Bonus
+10%
Equipment