Scarobo
Position
Mid
Awaken
All-round
Base Star
3-Star Base
Gender
Quote
Don't ask me why I am so powerful.'
Soulstone Sources
Elite 3-7 "Maplewood King"
Elite 6-5 "Dragon Island"
Elite 8-4 "Flash of light"
Special Package
Mid-row magic attacker. He can slow down an enemy.
Powers and Abilities
Awakening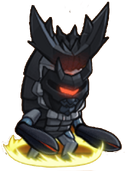 Because Scarobo is an All-round, during awakening, Scarobo will have 50% increase in HP, Physical Attack and Magical Attack.

Skills
| Icon | Skill Name | Skill Type | Description | Effect |
| --- | --- | --- | --- | --- |
| | Ice Beam | | Releases an extremely cold beam that attacks and slows down enemies. Every time an enemy is hit, his speed will be further reduced. | Every hit deals X Magic damage. |
| | Black Hole | | Throw a graviton hole at the enemy that deals magic damage and slows it down. | Deals up to X Magic damage. |
| | Energy Barrier | | Create a protective barrier that protects yourself against physical and magic damage. | Absorbs X damage. |
| | Illusion | | Create illusions of yourself and merge them to give yourself an increase in HP. | Increases HP by X. |
Talents
Icon
Talent
Description
Stats Increased
Channel Energy
Focusing on your energy greatly improves your magical ability.
Increases your Magic Attack.
Spiraling Mana
You focus your mana to reinforce your attacks.
Increases your Magic Attack and Magic Penetration.


Mana Burst
You're overflowing with energy!
This burst of mana greatly improves your HP and Magic Attack.


Durendal
Use this sword imbued with magic and parry incoming attacks.
Increases your Physical Defence and Magic Penetration.


Psychic
Reading the future helps you in battle!
Increases your Magic Defence and Magic Penetration.


Combos
Rivals

| Minion | Stat | Grey | Green | Blue | Purple | Orange |
| --- | --- | --- | --- | --- | --- | --- |
| | | 5000 | 5000 | 5000 | 5000 | 5000 |
| Scarobo | | 400 | 400 | 400 | 400 | 400 |
Horn and Claw

| Minion | Stat | Grey | Green | Blue | Purple | Orange |
| --- | --- | --- | --- | --- | --- | --- |
| Scarobo | | 400 | 400 | 400 | 400 | 400 |
| | | 160 | 160 | 160 | 160 | 160 |
Gear
Ruby Cost
2200
lv40 Bonus
+5%
lv1 Bonus
+5%
lv55 Bonus
+5%
lv10 Bonus
+5%
lv65 Bonus
+10%
lv25 Bonus
+5%
lv75 Bonus
+10%
Equipment